Ottawa Hardwood
The aesthetic appeal of your home can be significantly heightened with a hardwood floor installation in Ottawa. This remarkable type of flooring introduces unique natural tones and textures that no other flooring can match. It offers various colours, designs, and species to suit any stylistic preference, whether traditional or modern, polished or rustic, and beyond. The timeless allure of hardwood makes it a fitting choice for any home, as it always stays in fashion. Renowned for its outstanding strength and longevity, hardwood flooring can endure for many decades, potentially a lifetime, when properly maintained.
At Continental Flooring, we offer top-tier hardwood selections that will retain their beauty for years. There's a hardwood option suitable for every lifestyle, making it an ideal choice for many. Furthermore, hardwood flooring is effortless to maintain and clean, providing a hassle-free flooring solution. Its popularity among homeowners will add a considerable amount to the value of your home.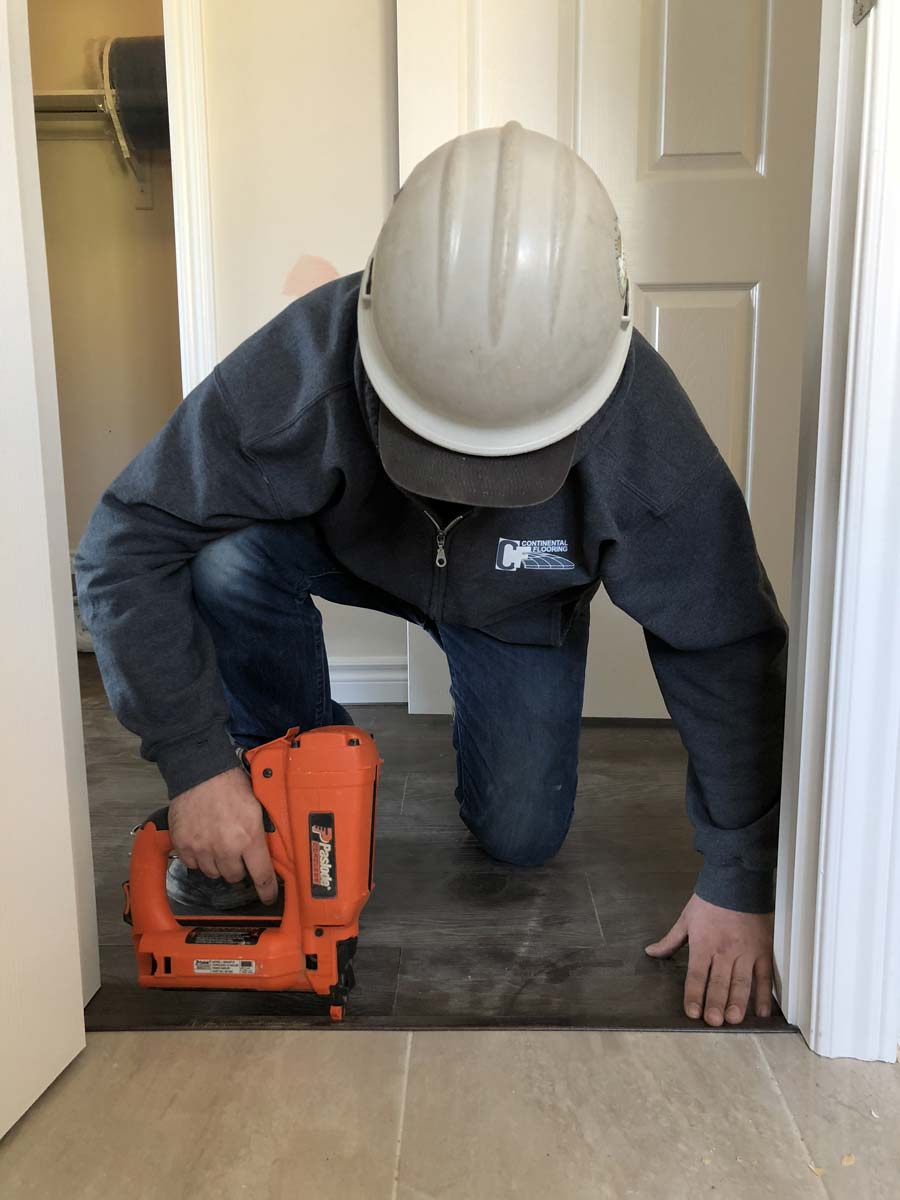 Installation
Continental Flooring specializes in hardwood refinishing and floor installation in Ottawa. We are also one of the few local flooring companies with advanced inlay and border design expertise. This unique service elevates the aesthetic appeal of any living or commercial space, showcasing our commitment to craftsmanship and attention to detail. We strive to deliver customized solutions that reflect our client's unique tastes and preferences.
There are five main ways to install hardwood floors.
Nail Down
A hardwood floor installation in Ottawa is generally used with ¾ inch-solid products. 2″ nailing cleats are used with a wood flooring nailer and mallet to attach the flooring to the subfloor. (If the floor is less than ¾ inch, there are different ways to install thinner flooring). Solid strip floors or plank floors can only be installed on wooden subfloors that are on grade or above grade. Solid wood strip floors and solid wood plank floors can only be nailed or stapled.
Staple Down
The staple-down installation procedure is easier to do than the nail-down for do-it-yourself installations. A pneumatic staple gun is used to drive staples through the tongue of the wood planks and into the wood subfloor underneath. Staples are used instead of nailing cleats to secure the hardwood flooring to the wood subfloor.
Glue Down
Glue-down hardwood installation in Ottawa can be done over wood-type subfloors and concrete slabs. Wood planks are simply glued directly onto the subfloor. The recommended adhesive is spread onto the subfloor using a proper-sized trowel, and the planks are set into the adhesive.
Glueless
Some engineered hardwood floors offer a glueless locking system. These floors are meant to float on various sub-floors, such as wood, concrete slabs, and some existing floors. This engineered flooring system offers an adaptable solution, from sturdy wood foundations to concrete slabs and even onto specific types of pre-existing flooring. The innovation of a glueless system eliminates the need for adhesives, providing a quicker and cleaner installation process that significantly simplifies home renovations and upgrades.
Floating
With the floating installation method, the floor is not mechanically fastened to any part of the subfloor. A thin pad is placed between the wood flooring and the subfloor. Wood glue is applied to the tongue and groove of each plank to hold the planks together. This is a very fast, easy, and clean method of hardwood floor installation in Ottawa.
Time to Inject Some New Life Into The Floors?
Call 613-274-7977 today or use the form on the right to request more information and arrange for a free in-home consultation. Trust Continental to deliver on our customer service promise and do the job right.