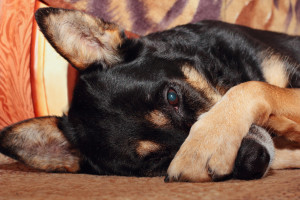 There are so many things that have the potential to leave a stain on any floors, especially carpets in Ottawa. Probably the worst of these is pet stains, due to the smell and the level of difficulty cleaning. Whether you're house-training a new puppy or your senior cat is sick, it's almost a guarantee that pets will leave a mess somewhere in your home at some point in their lifetime. Some of these stains are easier to clean, but one thing is for sure, the worst flooring to get this kind of stain, is carpet. Sometimes it even seems that our pets are intentionally going to the carpet to make their mess, despite our desperate pleas. Although we can't speak for the animals, we can help make your life a whole lot easier; here are 5 great tips for removing pet stains from carpet:
 1. Clean Vomit With Hot Soapy Water:
As soon as you see the mess, pick up the bulk of it without squishing it further into the carpet. Sometimes pets will go back and eat their own vomit (gross, we know), so you'll want to remove it right away. Blot away excess, then soak with hot, soapy water. After soaking for a few seconds, begin to gently scrub the area (pressing down firmly will only help the stain sink further into your carpet). Rinse sponge, and repeat as necessary until all suds are gone, then blot dry. Act as soon as possible or even as soon as the pet vomits. If you have old or dried vomit, it can be removed by wetting the carpet as well, and then using the same method, but it will be more difficult.
2. Clean Vomit with Salt Water:
First thing to do with pet vomit is always to remove the bulk of it while making sure you don't squish anything into the carpet. If you soak a towel or rag in hot salt water, it has a magnetic effect on the stains, helping you clean the mess with ease. Blot dry with a paper towel, or a rag.
3. Remove Feces:
Just as with vomit, it's important to first get rid of the bulk of the mess. A dustpan or paint scraper (plus rubber gloves) will help scoop the poop without pushing it into your carpet. Because these stains tend to be heavier, it's advisable to use a cleaning solution with oxidizing agents to help "lift" the stain out. Generally these require a bit of time to soak, then depending on the severity of the mess, you can use a rag, paper towel, sponge, or scrubbing brush to gently scrub the area. Rinse rags, sponges and brushes regularly with water, until stain and suds disappear. Dab dry with a rag or paper towel.
4. Clean Pet Urine With Paper Towel:
As soon as you spot the stain, soak up as much of the urine as possible with paper towels. The more fresh urine you can remove before it dries, the easier it will be to remove the nasty odor. Add thick layers of paper towels on top of the area, and stand on this padding, allowing it to soak up the wet spot. Remove and replace the paper towel, repeating until the area is barely damp. Rinse carpet thoroughly with clean, cool water, and blot dry with more paper towel.
5. Clean Urine (and Stop Pets From Going Back):
Animals like dogs and cats like to mark their territory using pheromones in their urine. Sometimes these pheromones are undetectable by humans, but with their powerful noses, pets can sniff them out and are compelled to cover them up with their own scent. These pheromones attract other pets to the same spot, which is why we commonly see all the dogs on the street use the same hydrant to do their business. Even if they smell their own pheromones, it's their instinct to cover it up (this instinct to mark is stronger in pets that are unfixed), so it's important to get that stain out – and do it right. Using products that have a bio-enzymatic formula will break down those pheromones in the urine – while also removing the stain and odour – and they won't be attracted to go back again.