You Want It All: Hardwood and Furry Friends
Dogs bring joy, energy and life to our hearts and our homes. As much as we love our furry friends, sometimes that joy and energy can have an unexpected victim in our hardwood floors. Scratches, accidents and general wear and tear are all par for the course with a puppy or an adult dog, but with some precautions and maintenance, you can make sure both your dog and your floors stay in great condition for years to come.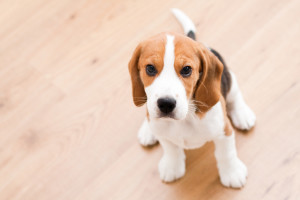 Hardwood and Harder Woods
For lovers and purists of true hardwood, opting for harder varieties of wood will yield the best long term results as they're more durable. Keep in mind that if you're a big breed lover, heavy paws and a lot of power can still damage even the hardest of wood. In general, trees from South America are harder and denser, and are more likely to suit the needs of a pet owner.
For a more domestic and durable choice, hard maple (also known as sugar or rock maple) is a great pick. It is produced from trees grown north of the 38th parallel where shorter growing seasons produce maple with closer, more uniform grain. It has long been the material of choice for basketball surfaces, making it ideal for pet traffic.
When Wood Won't Cut It
There are also alternatives to hardwood flooring that can give you the look with added durability. These wood alternatives are a great option for dog owners as they're more resistant to scratches, easier to clean and, in a worst case, likely cheaper to replace.
Wood-like tile is a great alternative. Installation is quick, it's incredibly durable, it can be applied throughout your house (a hardwood look in the bathroom, perhaps?) and you can get the look of expensive or rarer woods for less cost, anything from mahogany to a vintage reclaimed wood look.
The continuously advancing technology behind wood-like laminate flooring, combined with a lower cost and a higher durability, can make it a great option for dog owners.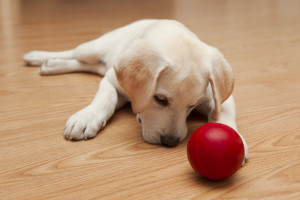 Choose the Right Material
No matter what wood or wood alternative you use, there are a few things to keep in mind. Make sure you get the flooring pre-finished, which means the planks or Ottawa tiles are stained and sealed in a factory setting, where an extremely tough aluminium-oxide urethane finish will help prevent damage.
Steer clear of soft woods such as pine or fir in areas your dog will be playing or running through. There are few preventative solution that can be applied to keep these soft woods from getting scratched, and replacing or repairing them can be expensive. Engineered wood flooring can wear down faster with repeated sanding and refinishing; if you're looking to fix frequent scratches and stains, keep this in mind.
A good defense…
… is the best offense: keep your dog's nails trimmed. If you're not able to do it yourself, your veterinarian or groomer can do this for you.
Area rugs are also a great way to protect your floor and add personal, stylish touches to your design scheme. Properly training your dog will also help with preventing scratches, stains and other mishaps.
Many pet owners have also found success with Soft Paws [http://softpaws.net/default.asp], a vinyl nail cap that is easily placed on the dog's claws and then replaced monthly, a small expense which can prevent a big repair bill.
Another trick is to make sure you clean pet messes immediately. Leaving urine or feces to sit on your floor will damage it. Pee pads and other litter solutions can be very helpful for training or for older, more accident prone dogs. Ensure you do all cleaning with a hardwood safe mop, and, if needed, consider designating some areas of your home pet free to preserve the life and look of your floors.
Make the Right Choice: At First and then Forever
The moral of the story is that it doesn't have to be one or the other. You can have a hardwood floor look in your home and still have the vitality, love and energy of a pet. Continental Flooring can help you chose the option that's right for you and your pet, then help you keep that floor looking as perfect as it was the day it was installed.
Continental Flooring offers refinishing, sanding and repair services with an expert team using a variety of products, techniques and technologies. From a screen and re-coat for mildly damaged floors to sanding for severely damaged floors, your floor will look outstanding no matter its existing condition. Call Continental Flooring for a free estimate at 613-274-7977 and inject new life into your old floors!