When building, remodelling or redecorating a home; green is in.
With so many products now that say "eco-friendly", the term has become a little muddled. What does "eco-friendly" even mean? To take an in-depth look at green, there are a myriad of factors to consider, from the impact on the global environment and future impact of harvesting and utilizing resources to the potential effect on you and your family.
When it comes to flooring products, there are several green options available in a wide range of materials. So many factors need to be considered while looking for the most ecological option; the type of wood or material, the adhesive and sealant, where these products are coming from & transportation of materials.
In terms of style, pricing and availability in Ottawa, the best environmentally-friendly flooring material choices are bamboo and cork.
BAMBOO
Bamboo is much more than an environmentally sustainable and socially responsible option. Like other flooring engineered from natural materials like cork, bamboo, or FSC-certified wood are typically more durable than other synthetic flooring products. The term "engineered hardwood" in this context means that the top layer of flooring is made from bamboo, which is glued to a bottom layer that can be made up of a variety of materials, and it's incredibly easy to maintain. There are different installation techniques for different varieties of bamboo flooring, so ask a Continental Flooring representative which option is best for your specific needs in Ottawa.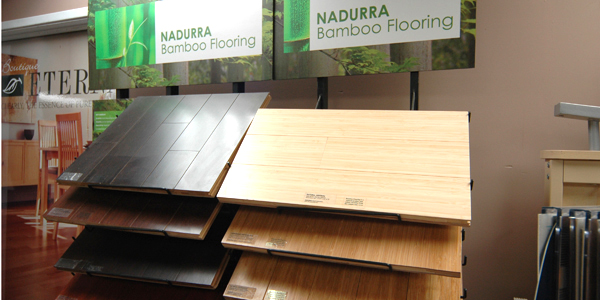 What makes it green?
Bamboo grows extremely fast and can reach its desired hardness and strength in only 5 years compared to decades for hardwood. This rapidly renewable resource requires no replanting since bamboo is a grass, not a tree, and its root system is not affected during harvesting. On top of that, bamboo farming typically requires less pesticides and chemical fertilizers and produces about 30% more oxygen than an identically sized grove of trees! We should note too, that farmed bamboo provides habitat for birds, and don't worry, it's not the same species that pandas like to eat.
The only downside is that Bamboo's far-away habitat presents some cause for concern due to the fuel demands of shipping it to North America. Continental flooring carries Ottawa's best selection of bamboo engineered hardwood from NADURRA bamboo flooring, located in Toronto, Ontario. Their ECO-Series line offers Canada's most ecologically sound bamboo flooring that has been independently tested for low to zero formaldehyde emissions and FSC certified. The Forest Stewardship Council (FSC) promotes "environmentally appropriate, socially beneficial and economically viable management of the world's forests." FSC is your assurance that the bamboo has been harvested with the world in mind; it comes from forests monitored for pesticide use and for the protection of endangered species, economic sustainability, and respect for workers' rights. Check out their website  for more info about the FSC!
CORK
Cork is comprised of millions of air-filled cells, making it an incredibly resilient material with fantastic sound dampening and heat insulating properties. This completely renewable resource is harvested from the bark of living cork trees and is highly durable and water-resistant, making it a great option for many areas, especially the kitchen and playroom. Continental offers either glue-down cork tiles or click-together floating floor planks in dozens of different colours and patterns to suit any room. Our cork floors are finished with an ultra tough, specially formulated polyurethane to create a highly durable, abrasion resistant floor that will last for decades.
What makes it green?
Cork trees store carbon in order to regenerate their bark, so a harvested cork tree absorbs up to five times more carbon than non-harvested trees! It is natural, biodegradable, renewable, and recyclable – and your cork floors will last decades!
Plus, buying cork flooring helps support cork harvesting communities, since the wine industry's use of synthetic corks is threatening the traditional Mediterranean cork industry. Continental uses cork flooring products that prevent trapped dirt, dust, mold and germs, actively contributing to a healthy and hygienic environment. We even have a glueless, floating installation that saves you from harsh chemicals and adhesives.
GLUES/SEALANTS
When trying to stay eco-conscious, it's important to consider the glues, varnishes and sealants involved with wood-style floors. The glues used in some flooring may contain formaldehyde, or other Volatile Organic Compounds (VOCs) that are dangerous to the environment, can trigger asthma attacks or allergies, and are even linked to cancer. Fortunately, many bamboo and cork floors now use formaldehyde-free adhesives and some are even glueless!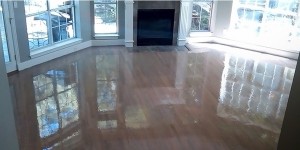 REFINISHING
Sanding and refinishing is worth exploring as a more economical alternative to laying down a new floor. When done right it's a great way to inject new life into your existing oak, maple, birch, parquet, or pine floor surfaces.
Call 613-274-7977 today or use the form on our website to request more information and arrange for a free in-home consultation. You can also visit our beautiful showroom on Colonnade Drive in Nepean where our friendly and knowledgeable staff will provide expert guidance for solutions that best suit the application and budget at hand. Trust Continental to deliver on our customer service promise and do the job right.