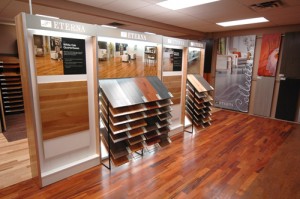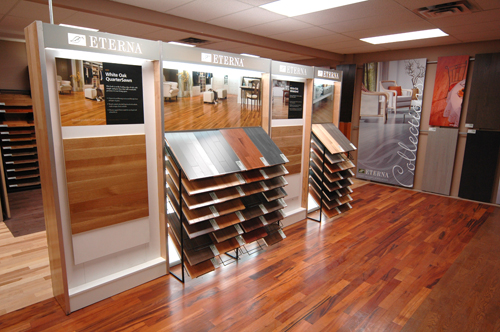 Hardwood flooring can bring warmth and style to any home while providing a natural element to the space. Many Ottawa homeowners find hardwood appealing for a myriad of reasons, but it's important to consider which type of hardwood flooring will fit you and your family's needs. First, decide whether you'd prefer to have solid or engineered hardwood:
Solid Wood Flooring
Solid wood flooring is best suited to those who want a long-lasting floor (it can be sanded and refinished many times) and a customised finish. Made from one piece of hardwood timber, solid wood flooring comes in a variety of widths and thicknesses and can be ordered pre-finished or unfinished (requiring varnish). Solid wood floors can also add considerable value to a home and is therefore often seen as a prudent long-term investment in Ottawa.
This type of flooring typically features tongue and groove edges and is usually nailed or glued onto the subfloor. It is important to note, however, that as wood reacts to moisture changes during the change of seasons, it needs to be expertly installed with proper margins between planks to allow for contraction and expansion throughout the year.
Engineered Wood Flooring
Utilizing modern fabrication technology, engineered wood flooring offers a layered construction comprised of one to three layers of hardwood bonded on top of a soft wood core. Since it is not comprised of 100% hardwood, engineered wood flooring is much more resistant to moisture. This along with the layered construction neutralizes the seasonal movement more typical of natural wood floors.
Engineered wood flooring normally comes pre-finished with tongue and groove edges (some types have edges that click together). Depending on the manufacturer, engineered hardwood can be installed as a fully glued down floor or laid on top of a suitable underlay as a floating floor.

The type of flooring you use will depend on where you will be using it, since installing hardwood floors on a second story is much different than doing so in a basement. A space beneath ground level is what's known as below grade. A floor that's even with the outside ground level is on grade, and any floors above this are above grade. Where you're installing the wood will limit your recommended options. The moisture coming up through the ground can cause problems for solid wood below grade. Your subfloor is another factor that will determine whether you can use solid wood or if you're limited to using engineered hardwood.
Next, you'll want to choose the type of wood. Continental Flooring features these natural and engineered hardwood products: Oak, Maple, Mahogany, Cherry, Hickory, Parquet, Bamboo, Walnut, Teak, Pine, Birch, and Ash.
Bamboo Flooring
Bamboo flooring is a popular choice for homeowners interested in beauty, durability, and sustainability in Ottawa. Like other flooring engineered from natural materials like cork, and, eucalyptus, bamboo and FSC-certified wood are typically more durable than other synthetic flooring products.The lighter shade is often bamboo's natural colour and a "carbonized" shade is achieved through a heat treatment process that caramelizes the sugars in the bamboo fibers. A vertical cut conveys a warm elegant look while horizontal suggests a more rugged look.
There are different installation techniques for different varieties of bamboo flooring, so ask a Continental Flooring representative which option is best for your specific needs in Ottawa.
The term "engineered hardwood" in this context means that the top layer of flooring is made from bamboo, which is glued to a bottom layer that can be made up of a variety of materials.
Bamboo flooring is easy to maintain and can be a perfect choice for your home. However, in areas where floors come into regular contact with water, bamboo may not the best option.
Domestic species of wood, like Oak and Maple are perfect for traditional settings or for complementing existing cabinets or furniture. These species have a tendency to have lighter color tones, unless stained. The most popular domestic wood species for Ottawa hardwood flooring, Red Oak is known for having moderate to heavy graining with moderate color variations. Maple flooring can contain minimal to a lot of darker mineral streaks. Maple graining is very light and fine and is sometimes hardly discernible, and grain will range from uniformly straight lines to curly patterns. Similar to White Oak, Ash is known for color variation from pale white to light/medium brown, however it has more unique graining, that is bold and can appear straight, curly or wavy Hickory is one of the hardest domestic wood species and is highly popular because of its natural color variation and unusual graining.
Cherry Wood Flooring
Cherry is a softer wood species but has wonderful graining and color, a very distinctive charm, and is popular because of its natural variation in colour from board to board. Walnut is another softer wood species that usually has fine, straight graining and a rich, brown coloring. Homeowners like the natural color of Walnut flooring and the warmth it automatically adds to a room, and it can be a character grade showing knots and grain variations.
Pine Wood Flooring
Pine is one of the softest domestic wood species and it is known for varying sizes of knots and graining. This flooring fits well in country settings and is often offered as a "reclaimed floor" and in wider than usual board sizes. Buyers should note that Yellow Pine is a somewhat unstable wood species and it is common to see open gaps between boards during seasonal relative humidity changes which usually close again during the humid months.
Deciding what Ottawa hardwood flooring is right for your living space takes time and a lot of consideration. Call us at 613-274-7977 today for more information and arrange for a free in-home consultation to help you in your decision. Trust Continental to deliver on our customer service promise and do the job right.