As we slowly begin the transition from Winter to Spring, now is the time to prepare your home for next season's challenges. While Spring typically brings about relief and excitement, it can be extremely rough on your floors. Slush, rain and mud are major culprits when it comes to damaging your carpets in Ottawa, hardwood and just about any other type of flooring. The saying goes an ounce of prevention is worth a pound of cure and we say it's easier to prevent a mess than clean one up! If you'd rather not spend your Spring trying to find ways to repair stained or damaged floors we suggest implementing some of these floor-protecting ideas now.
Do you have a "no shoes" policy in your home? We highly recommend making it a habit to remove any footwear at the door. It may take a few days, or weeks, but it should be fairly easy to implement this rule with members of your household. To help the process along, make sure to have a mat for everyone to wipe their feet as well as a designated place to put shoes once they have been taken off. It is also helpful to have a boot tray as it collects any water and mud that may soak through a thin mat.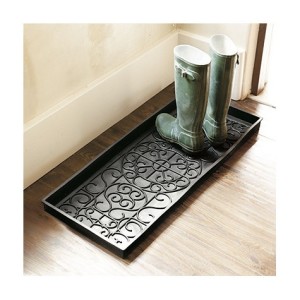 The biggest challenge many homeowners face when it comes to protecting their floors from messy boots is asking guests to remove their shoes without making them feel uncomfortable. There are a few things you can do to avoid any awkward situations when welcoming guests to your home. We love the idea of using a nice sign near the door to let guests know of your request as they enter. Try polite phrasing like, "Welcome friends! Please take your shoes off and stay awhile!" or if humour is more your style, "Life is full of choices… take your shoes off or scrub the floor!" Some people also like to leave a basket full of slippers near the door to offer to guests as a warm and cozy alternative to their outside shoes.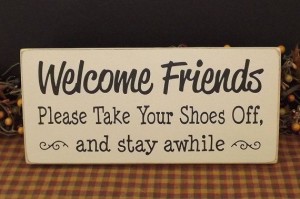 Even in the most careful households, messes will happen occasionally, especially when pets and children are involved. The important thing is not to procrastinate cleaning up when things don't go as planned. If it is ice, snow or rain water that ends up on your floor simply dry it up with a clean rag or paper towels as soon as possible. Keeping some basic cleaning supplies in a convenient location will make this easier. For mud or other more difficult stains, treatment may vary depending on your type of floor but it is always crucial to get started right away. We recommend you refer to a trusted cleaning manual and test out the suggested method in an inconspicuous place first. You can also take a look at our Cleaning Tips board on Pinterest for solutions.
Follow these simple tips and your floors should remain in good shape throughout the Spring season! If you are looking for advice or protective treatments for your specific type of flooring, please feel free to give us a call at 613-274-7977.