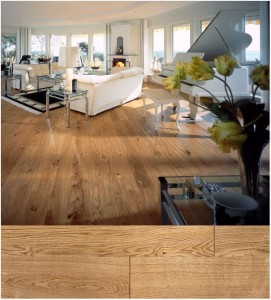 Ottawa Hardwood flooring is not only a beautiful option, but also a popular choice of flooring material due to the fact that it's durable and can be restored fairly easily. As homeowners, we know that any flooring is subject to regular wear and tear, so today we're outlining basic cleaning and maintenance tips. In most cases, hardwood requires regular vacuuming, sweeping, and damp mopping to maintain the appearance and cleanliness of the floors. The best option to make your cleaning routine more efficient is with smart preventive maintenance.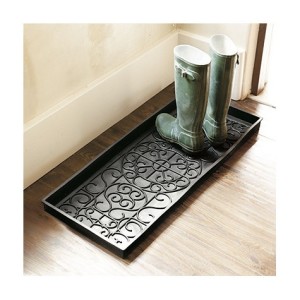 Setting Yourself Up For Success
It's always a good idea to make sure that your floor is properly finished and maintained to avoid accumulating hidden soil or odorous compounds. Having mats both outside and inside exterior doors decreases the amount of dirt, mud or snow being tracked inside. Include a boot removal area for wet conditions like rain and snow to avoid damage from water, salt and de-icers.
Another important factor in the maintenance of your hardwood floors is the prevention of scratches and dents. Using floor protectors under furniture will help to prevent marks, and having rugs in children's play areas will ensure toys don't scratch the floor. Be careful when using a rug to protect your wood floor, as dyes on certain cheaper rugs have been known to stain floors. Call us or come in and see us so we can recommend an under-pad as a safeguard, depending on your flooring and your style.
Regular Cleaning
As we all know, it is important to stay on top of cleaning duties at home to avoid damage. Always wipe up spills, mud, and slush immediately; avoid using oil soaps for cleaning as they leave a residue; and before you grab a mop and bucket, it's best to establish if and how your hardwood floor is sealed. It will actually be the finish, and not the wood type, that will determine how you clean and care for your floors. To quickly detect the finish of your floor, simply rub your finger across it. If you don't leave a smudge, the floor is surface sealed. If a smudge does appear, it means the floor has been treated with a penetrating seal, oil finish, shellac, varnish or lacquer, and then waxed.
For an everyday clean, or to speed up the deep cleaning process, dust the floor with a broom, or a mop that has been treated with a dusting agent to pick up dust, dirt, and pet hair that could lead to scratches on the surface of the floor. If you prefer to vacuum, avoid using one with a beater bar attachment, as it can also scratch the finish of a wood floor. Do NOT damp-mop waxed floors. All you have to do is vacuum and sweep the surface on a regular basis. Once or twice a year, you should get the old wax stripped to apply a fresh new coat. Our Ottawa hardwood floor refinishing experts employ a variety of products, techniques and technologies to inject new life into existing hardwood floors that will keep them looking beautiful for many years to come.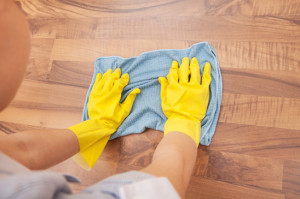 Deep Cleaning
Eventually, dirt, oil, and grime build up and aren't completely removed by a weekly dust mopping. For an extensive list of proper cleaning techniques for each flooring finish, check out this great list from Today.com
Keep in mind that too much water is a wood floor's worst enemy, so don't use a soaking wet mop, use a damp mop instead and wipe away excess liquid. For occasional deep cleaning, use a wood-cleaning solution diluted according to the label instructions, and avoid using straight ammonia, alkaline products or abrasive cleaners, as they can dull or scratch the finish on certain floors.
Removing Marks
The most difficult part of cleaning and maintaining your hardwood flooring is repairing or removing marks, scratches, stains, and dents from every day wear and tear. We'll make it easier for you with a few tips, but before you try to restore your floors, consider the type of finish. If the stain is on the surface, your floor likely has a hard finish, such as urethane. Stains that have penetrated through to the wood are a sign that your floor probably has a soft oiled finish, which is common in older homes whose floors have not been refinished and resealed. For a severely damaged floor or to allow a complete color change, we at Continental start by sanding right down to the wood surface, then apply multiple coats of varnish to create an incredibly durable and long-lasting finish. Call us or use the form on our website to request more information and arrange for a free in-home consultation.
Here are a few quick tips for fixing marks in hardwood floors:
Wipe surface stains from a hard finish with a soft, clean cloth. Avoid using steel wool, sandpaper, or harsh chemicals on this type of surface, as they can permanently damage the finish.
When removing any stain, work from the outside edge in toward the center.
Scuff marks: Use a bit of baking soda on a damp sponge to erase them.
Heel marks: Use extra-fine steel wool to rub in floor wax.
Food stains: Wipe the surface with a damp cloth, rub dry and wax.
Water marks or white stains: Gently rub the spot with extra-fine steel wool and floor wax or a small amount of mineral spirits. Keep the area well ventilated as you work.