Spring Cleaning Tips
With Spring already here, now is the best time to refresh and renew your living space. Taking proper care of the floors in your home while cleaning is an essential part of housekeeping. Because of this, we've provided you with a Spring cleaning guide full of tips and insights to get you going!
Cleaning Hardwood
There are many kinds of so-called hardwood, but for the purpose of this article, we will assume that hardwood means real hardwood, engineered hardwood, plank, parquet, bamboo flooring or Ottawa laminate flooring. Make sure to give your floors a good sweep and dusting. While doing this, look for food debris or anything else stuck to the floor and scrub that away as well. Use cleaning products specifically for the type of flooring you have. You can also use a vinegar/water mixture, which can be used for more than just hardwood. To make sure that your floors shine, you can buff them with a microfiber cloth first. To do this, simply apply the cloth in a circular motion until you get that desired sparkle.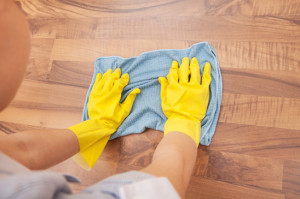 Why White Vinegar?
White vinegar is a natural by-product of vegetables, fruits and grains that is edible and biodegradable. The main processes for creating vinegar is simply fermentation; to give some context, if alcohol is left sitting, it will eventually become vinegar. Vinegar is also an acid, which means that it is very good at breaking down grease, germs, bacteria, and wax. It is such a powerful solution that for the most part it should be split 50/50 for a cleaning solution. Not only is it powerful, it is a wonderfully green alternative to other products for the health of your floors and pets.
Granite Cleaning
Begin by clearing the surface area for proper cleaning. Make sure to remove all excess debris, appliances and items from the whole surface. Use a rag and soap to clear up the remaining crumbs or caked on dirt. Make use of a homemade granite cleaning formula that is pH balanced (do not use ammonia, vinegar or lemon cleansers on granite since acidic substances eat away it the surface). Just combine to warm clean water three parts dish detergent and one part rubbing alcohol. With a white clean cloth wipe the counter with the solution. Using dry microfiber cloths will get rid of any streaks you may find after applying the solution.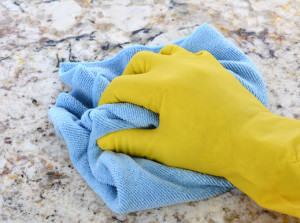 Carpet Cleaning
In general, carpets should be cleaned every week, especially in high-traffic locations. Take your time when you clean them since dirt can get stuck deep in the fibers, especially for in plusher carpets. When you have spills, clean them immediately. Carefully blot or scrape the affected area and remove as much of the spill as possible before applying a cleaning product. Here  is a complete list of solutions and instructions you can use for most emergencies. You can also make use of a homemade carpet freshener, for general cleaning, vacuuming and maintenance, by combining:
1 cup crushed dried herbs (rosemary, southernwood, and lavender are good choices)
1 teaspoon ground cloves
1 teaspoon cinnamon
1 teaspoon baking soda
Sprinkle the mixture over carpet and allow to sit for a few minutes, then vacuum.
Here are a couple variations of that mixture:
Mix 1 small box baking soda with your favorite potpourri oil, using just a few drops, and sprinkle on as carpet freshener. Leave on carpet for 10 to 20 minutes, then vacuum.
Use 1 cup baking soda, 1 cup cornstarch, and 15 drops essential oil fragrance. Leave on carpet for 10 to 20 minutes, then vacuum. Store mixture in a glass jar or airtight container.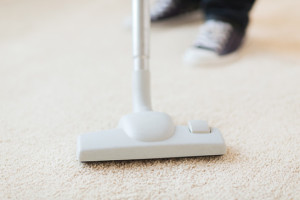 Refinishing
Some very light floor scratches can be fixed by the owner, but most require professional help. If you would like to inject new life into your floors professionally, our team of experts  will help by employing a variety of products, techniques and technologies to restore and rejuvenate! You can also call us at 613-274-7977 or visit our website to arrange for a free consultation.
Happy Spring cleaning!