No matter the room that you are planning to renovate, you can make use of a variety of flooring tricks to enhance your spaces. One such tool, and a powerful one, is the flooring you pick for your home. There are a variety of options when it comes to the material available here at Diamond Flooring, but following these easy steps will ensure that you can use this tool to its fullest potential when working on improving your home.
Sizing Up
As a general rule, the use of larger individual pieces of hardwood or Ottawa tiles will make a room appear larger. This was previously less common in the past because the materials available were more limited to smaller squares of tile or thinner planks of wood. This effect is caused by the lack of interruptions in the surface of your floors, conveying a sense of a larger space. A special consideration for the tile you'll be adding to the floor is to ensure the grout lines are more separated, and of the same colour as the tile to ensure a less fussy and lighter look for your floors.

Essential Colour
While much is said about lighter colour palettes being the general rule for making a room seem larger, it is not always the case. You cannot rely on simply making your floors lighter lending to a larger space. When planning your interiors it is important to properly pick an appropriate colour scheme. For example, a lot of contrast between a light floor and dark furniture/walls will draw the eye immediately to the furniture's size relative to the flooring that it contrasts with. For this reason uniform neutral colours lend themselves well to tricking the eye into thinking the space is larger than it actually is. In the end every room is unique and especially colour; each room is unique in that generalized rules might not exactly work for the space you are renovating.
The Right Shape
One interesting consideration for tile would be to intermix a variety of shapes to fill your flooring space and add intriguing contrast. This approach is effective without making the room seem larger because the contrast does not draw the way to a different element of the space to betray the size of the room. It would be wise to contact a professional since the proper arrangement and patterns for the variety of sizes you would want to incorporate are very complex.
Orientation
The most effective trick for suggesting to the eye that the space is bigger would be the orientation of your tile or hardwood. Tile should be laid out diagonally to make it harder for the viewer to measure distance of the tile as if it were a grid. For hardwood floors that are normally composed of long rectangular shapes: Arrange them lengthwise to emphasize width vs. length of a room. If you would like a room to appear wider simpler have the planks lay horizontal with both ends pointing to the walls you would like to "elongate". The opposite is true for length: lay them vertically pointing to the appropriate sides of the room.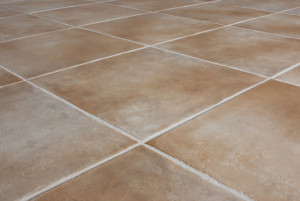 Other Tips and Tricks
Try reconfiguring the layout of an inefficient floor plan to make more room. Although costly it can open up a room to move a tub from a sidewall to along the far wall to open up a bathroom, for example. Also consider keeping things nice and simple in smaller spaces. Furniture with a simple profile with other reflective objects or appliances will help keep things in the room uncomplicated. Think vertically when installing new cabinetry, large furniture or new doors. Making adequate use of space vertically will help keep things balanced and draws the eye upwards. This applies primarily in rooms with limited floor space; you need to make use of all available space for useful storage as well as properly leading the eye throughout the room.
We are always happy to help with any installation advice or answer any questions you might have about making the most out of your limited floor space. Give us a call at 613-274-7977 and we'd be more than glad to answer any and all questions!